JONAS WESTRING, 9-10 OKTOBER 2021, WORKSHOP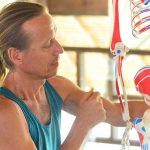 For several decades Jonas has traveled the world transmitting the essence of yoga, bodywork, anatomy and therapeutics with a light-hearted, educational, anatomical-therapeutic twist. He is known and appreciated for an insightful, joyful teaching style that emphasizes students' educational advancement as well as providing them an in-depth personal direct experience of yoga.
---
OBS ÄNDRING AV LOKAL
Program
LÖRDAG 9/10 10.00-12.30
1. Anusara Yoga: Universal Principles of Alignment:  

The opening session clearly demonstrates the main principles that lay the foundation for the Anusara method and covers a full-spectrum asana practice. We will explore a variety of yoga postures from all categories of poses, tapping into the universal pulse known as Spanda, found in the polarity of 'Muscular Energy' and 'Organic Energy' in yoga practice.
LÖRDAG 15.00-17.30
2. Calming the System: Twists & Forward Bends
Dedicated to soothing the nervous system, calming the body and relaxing the mind – this session acts as the counter pose to the energetic morning practice. It consists of an exotic blend of spinal twisting, forward bends, and hip-openers that will release the energy downwards towards the earth to facilitate rooting and grounding.
SÖNDAG 10.00-12.30
3. Expanding the Vision: Sequential Backbends 
An energetic asana practice filled with a potpourri of backbends to open you where you need it the most. Through effective sequencing and the intelligence of the 'Universal Principles of Alignment' you will enjoy safe backbends that are highly therapeutic and feel really good. The heart-opening quality of this category of poses gives freedom to body, mind and beyond.
SÖNDAG 15.00-17.30
4. Active/Passive Restoratives, Therapeutic Touch, Pranayama & Meditation
Geared towards reducing the sympathetic tone of the nervous system, a major cause of health problems. Through mindful slower type of practices para-sympathetic dominance is achieved and the body unwinds – resulting in lower blood pressure; slower heart rate; reduced breath ratio; improved digestion; ease and peace of mind; rejuvenation, health and healing.
TIDER
Båda dagar 10.00-12.30, 15.00-17.30
Ytterdörren öppnar 20-15 minuter innan vi startar för resp klass.
VAR?
Media Evolution, Stora Varvsgatan 6a, i Malmö. Lokalen ligger ett stenkast från centralstationen och ingången sker från baksidan av byggnaden.

PARKERING
Det finns ett parkeringshus strax i närheten, Hallenborgsgatan 7. Annars finns det gott om platser längs med vattnet på Bejerskajen. Kör in vid MINC på Ankargripsgatan. Jag har för mig att det är gratis på söndagen.
 HUR ANMÄLER MAN SIG?
Du anmäler dig HÄR din plats blir sedan bekräftad efter mottagen betalning:
BETALNING:
Båda dagar 10 timmar kostar 1,750:-, enstaka klasser i mån av plats 500:-.
BG 349-2584 Veggivore AB,
SWISH 1234 226304 ange ditt namn och ev. vilka klasser du vill gå.
Din betalning bekräftar platsen och en anmälningsavgift på 500:-  skall vara gjord senast den 26/8. Resterande summa betalas den 15/9 vilket också är sista datum för att avboka.
ATT HITTA DIT
Om du blir försenad eller har svårt att hitta, ring mig på 0708 41 06 91.
LUNCH, lördag och söndag

Lunchställen finns runt omkring i Malmö.

TA MED
egen yogamatta, block och yogaband och en filt, vi har bara ett begränsat antal props att låna ut. Snacks och vattenflaska.

ÖVRIG INFO
Det finns möjlighet till ombyte med dusch och gott om toaletter.
Du får gärna hänga kvar i lokalerna under pausen.

BOENDE
hotell i Malmö
————————————-
MER OM JONAS
Jonas Westring, originally Swedish with decades in the USA and Asia, began his yoga journey in 1981 at the Scandinavian Yoga School, a branch of the Bihar School of Yoga. He has been immersed in holistic wellness practices ever since and now with 40 years personal yoga experience; twenty-five years yoga teaching; twenty years leading yoga teacher training; Jonas is yoga educator well established in the field. 

He also has exceptionally well-rounded and extensive qualifications as a Licensed Physiotherapist; Certified Yoga Therapist; Massage Therapist; Certified Anusara Yoga Teacher Trainer; E-RYT 500, founder-director of Shantaya Yoga & Bodywork School [based in Chiang Mai, Thailand] that teaches 200-hour and 300-hour Teacher Training Programs certified by Yoga Alliance and Anusara School of Hatha Yoga.
Using the bio-mechanically sound, effective and systematic Anusara method based on "Universal Principles of Alignment' as his main practice and teaching focus, he also has experience in a variety of yoga styles such as Ashtanga Vinyasa, Iyengar Yoga, Kripalu Yoga, Viniyoga, and especially Integrative Yoga Therapy – a therapeutic yoga school where he was teaching faculty from 1999-2003, which mentored him into the role of teacher trainer. 

Jonas brings to his teaching not only a multitude of yoga styles and therapies but also a background in clinical physiotherapy which he practiced both in Sweden and in the USA in the 1990's. With a solid education in western medicine and a life invested in holistic healing modalities and practices from the East, he skillfully integrates both perspectives into educational therapeutic teachings. 

He was also one of the early pioneers in spreading the Thai massage healing tradition through a Thai Yoga Certification program he created in the USA in 1998 that trained students in therapeutic yogic bodywork informed by physiotherapy and yoga. This program he taught extensively in the USA for 18 years but also in Japan and other countries.